---
We offer clean, dry, indoor winter storage for boats and other watercraft at our main storage/service site in Lester Prairie, MN. We can transport any boat up to 50' anywhere in the Lake Minnetonka area to and from our buildings.

IBS winter storage service includes the following:
Transport from your dock to our facility in the fall
Full winterization (see below)
Storage in one of our eleven clean, secure buildings
Maintenance check-up for possible problems that should be fixed before spring
All boats are thoroughly cleaned and vacuumed before leaving the storage site
Transport from the storage building back to your dock in the spring
Free trailer storage while your boat is in the water
Our comprehensive winterization process covers every system of the boat, not just the engine. This includes:
Stabilizing gas
Pumping out head and water tanks
Anti-freeze in engine and water system
Winterizing air conditioners, ice makers, generators, etc.
We also have space dedicated to storing cars, motorcycles and other vehicles over the winter/summer or for other periods. If you are interested in storing with us, or need more information about our services, please give us a call at (612) 978-4750. We would be happy to provide a storage quote for free with absolutely no obligation.
Vehicles used for transport and service.
Storage Facilities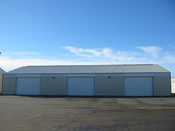 Some of our storage buildings. Click images for larger views.