---
Along with maintenance and repair work, our team can also provide a variety of refinishing services. Indoor Boat Storage can repair wood or fiberglass surfaces that have been worn or cracked in the course of normal use. We can repair gel-coat on boats and personal watercraft, and we're equipped to match colors for painting.
Our facility is also equipped to strip and re-apply stain and varnish, and repair holes and tears in canvas and seat material. Also, we offer a buff-and-wax service to clean the hull and prevent damage during long periods of storage.
For more information on our refinishing services, please contact us at (952) 978-4750.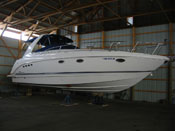 A boat for sale in our brokerage service that has just had its hull cleaned


Extensive refinishing work was done on this Windsor Craft